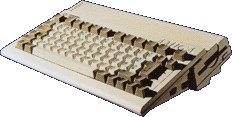 In 1992 March Commodore released its most compact Amiga, the A600. It is so small that it has no numeric keypad either. The A600 gives the same performance as an A500 Plus with an IDE hard disk controller. Moreover its different kind of expansion slots give even more limited expandability and are incompatible with the existing ones in the Amiga family. This made many Amiga users not considering the A600 as a leap forward.
Processor
68000 @ 7 MHz
68020 @ 14-25 MHz
68030 @ 33-50 MHz
All A600s have a 68000 @ 7.14 MHz soldered to its motherboard.
The A600's expansion slots are designed to not support processor card upgrades at all. Even its 68000 is not socketed which would allow the easy connection of a processor board. The only solution is to place the board on top of the 68000 with a mirrored CPU socket.
Memory
up to 2 MB Chip RAM
up to 32 MB Fast RAM on processor boards
up to 4 MB Fast RAM on PCMCIA cards
The A600 has 1 MB Chip RAM on its motherboard which can be expanded to 2 MB via the trapdoor slot.
Fast RAM can be added either via the PCMCIA slot or via using a processor board.
Custom chips
Fat Agnus - ECS display controller
Super Denise - ECS display encoder
Paula - audio and I/O controller
Gayle - system address decoder and IDE controller
Supported screen modes
PAL
NTSC
Euro36
A2024
320×256 - 1280×512
320×200 - 1280×400
320×200 - 1280×400
1024×1024
50 Hz, 15.60 kHz
60 Hz, 15.72 kHz
73 Hz, 15.76 kHz
15 Hz, 15.72 kHz
Multiscan
Euro72
Super72
640×480 - 640×960
640×400 - 640×800
400×300 - 800×600
60 Hz, 31.44 kHz
70 Hz, 31.43 kHz
72 Hz, 24.62 kHz

Supported palettes
Low
High
Super
A2024
32 / 4096, 64 (EHB), 4096 (HAM)
16 / 4096
4 / 64
4 / 16
All A600s shipped with Kickstart 2.05 ROMs. Early units had Kickstart v37.299 which did not contain hard disk support. v37.300 allowed hard disks up to 40 MB capacity. v37.500 removed all limitations on hard disks.
Expansion slots
1× trapdoor expansion slot
1× PCMCIA Type II slot
The 40 pin trapdoor expansion slot is not compatible with the one in the A500. It can be used for Chip RAM expansion only.
The 68 pin PCMCIA slot accepts industry standard peripherals if the suitable driver software is present.
The A600 was not built with expandibility in mind, thus it has a small amount of upgrade options. Look up its expansions from the database.
Interfaces
1× serial DB25 male, RS232
1× parallel DB25 female, Centronics
1× video DB23 male, analog RGB
1× composite video, RCA jack
1× RF modulated video, RCA jack
2× mouse/game DB9 male
2× stereo audio, RCA jack
1× external floppy DB23 female
1× internal floppy 34 pin header
1× internal IDE 44 pin header
Unlike the A500, the composite video output is coloured and the RF modulator is internal.
The floppy drive controller supports up to four devices - one attached to the internal floppy header and three connected to the external floppy port. Both double and high density disk drives are supported. A 880 kB double density floppy disk drive is built into the A600's compact case.
The built in IDE controller supports two IDE devices connected simultaneously, although there is only one internal drive bay for a 2.5" hard disk drive. Only mode PIO 0 is supported.
Motherboard revisions