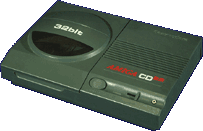 In 1993 September Commodore released its last Amiga and the world's first 32 bit game console, the CD32. Based on the AGA chip set and a CD-ROM drive, it lacked many features of the A1200, but also had features exclusive in the Amiga range.
Processor
68020 @ 14 MHz
68030 @ 25-50 MHz
All CD32s have a 68EC020 @ 14.28 MHz soldered to their motherboard. Upgrading the processor requires the use of a processor board which can be installed into the expansion slot.
Memory
2 MB Chip RAM
up to 64 MB Fast RAM on processor boards
1 kB Flash ROM
The CD32 has 2 MB 70 ns Chip RAM soldered to its motherboard which could not be expanded further.
Although the CD32 is an entirely 32 bit machine, the 68EC020 processor has only 24 bit address space (16 MB) besides its 32 bit data path. This allows 8 MB for Fast RAM expansion which can be added via the expansion slot. Further expansion of the Fast RAM requires the use of a processor board.
The 1 kB flash ROM is intended to store game high-scores.
Custom chips
Alice - AGA display controller
Lisa - AGA display encoder
Paula - audio and I/O controller
Akiko - system address decoder, CD-ROM controller, chunky to planar conversion acceleration
Although the CD32 has the same AGA chip set as the A1200, there is no output provided for the doubled productivity screen modes. This limits the available resolutions of the base model to:
PAL
NTSC
320×256 - 1280×512
320×200 - 1280×400
50 Hz, 15.60 kHz
60 Hz, 15.72 kHz
All screenmodes offer up to 256 colours from a 24 bit palette, or 262144 colours in HAM8 mode.
Chunky to planar pixel conversion is hardware accelerated by Akiko's built-in corner-turn memory.
Audio output is 8 bit, 4 channel stereo up to 28 kHz.
All CD32s shipped with Kickstart 3.1 ROM.
Expansion slots
1× expansion slot
The 182 pin expansion slot allows the connection of the FMV module, processor boards or other system expansions.
The CD32 was not built with expandibility in mind, thus it has a small amount of upgrade options. Look up its expansions from the database.
CD-ROM drive
The CD32 features a double speed (330 kB/sec) top-loading CD-ROM drive. The supported CD formats are ISO-9660 CD-ROM, Audio CD, CD+G.
With the addition of the FMV module CD-i Digital Video and Video CDs can be played.
Interfaces
2× mouse/game DB9 male
1× aux, 6 pin female mini-DIN
2× stereo audio, RCA jack
1× stereo headphones, 3.5 mm jack
1× composite video, RCA jack
1× CD-ROM header
American / European version
1× RF Out
1× S-VHS, 4 pin mini-DIN
French version
1× Scart, 8 pin mini-DIN
To get the usual Amiga expansion ports (RGB, serial, parallel, floppy, IDE) a system expansion has to be attached to the 182 pin connector.
Motherboard revisions
rev 3 ()

American / European version
4 pin S-VHS connector

rev 4.1 ()

French version
8 pin S-VHS connector
no RF-modulator
Other components
power and CD drive LEDs
11 button joypad