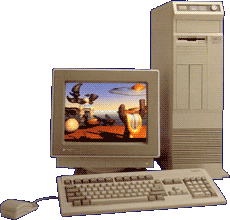 Variants
A3000T/030
A3000T/040
A3500

Shortly after the release of the desktop A3000 its tower version came out. The first models shipped with 030 processors on their motherboard, later the A3000T/040 was introduced featuring an A3640 processor card.
The A3500 was the prototype of the A3000T. Its case was taken from Commodore's PC line and its motherboard had slightly different layout.
Processor
68030 @ 25 MHz
68040 @ 25-40 MHz
68060 @ 50 MHz
PowerPC 604e @ 150-233 MHz
The A3000T/030 uses a 68030 and 68882 @ 25 MHz, while the A3000T/040 uses a 68040 @ 25 MHz mounted on the A3640 card. The 040 version has the 68030 and 68882 chips removed from its motherboard.
Memory
up to 2 MB Chip RAM
up to 16 MB Fast RAM on motherboard
up to 128 MB Fast RAM on processor cards
up to 1.25 GB Fast RAM on Zorro III expansion cards
All A3000Ts have 1 MB Chip RAM soldered to their motherboard but unlike the desktop A3000 it uses ZIPs instead of DIPs. Eight ZIP sockets accept another 1 MB using 256k×4 ZIPs.
Fast RAM can be installed via 32 ZIP sockets which accept 16 MB Fast RAM. They accept either 1M×4 or 256k×4 80 ns ZIPs in groups of eight (one bank) but all the banks have to have the same sized chips. The RAM chips can be either static column or page mode ones. Static column ones support burst memory access and so they perform 10% faster. The A3000Ts shipped with 4 MB Fast RAM installed.
Custom chips
Fat Agnus - ECS display controller
Super Denise - ECS display encoder
Amber - display enhancer
Paula - audio and I/O controller
Fat Gary - system address decoder
Fat Buster - DMA arbitrary controller
Ramsey - RAM controller
Super DMAC - DMA controller
The A3000T ECS chip set and display enhancer offers the following screen modes:
Low
High
Super
PAL, non-interlaced
PAL, scan doubled
PAL, interlaced
PAL, deinterlaced
NTSC, non-interlaced
NTSC, scan doubled
NTSC, interlaced
NTSC, deinterlaced
320×256
320×256
320×512
320×512
320×200
320×200
320×400
320×400
640×256
640×256
640×512
640×512
640×200
640×200
640×400
640×400
1280×256
-
1280×512
-
1280×200
-
1280×400
-
50 Hz, 15.625 kHz
50 Hz, 31.25 kHz
50 Hz, 15.625 kHz
50 Hz, 31.25 kHz
60 Hz, 15.734 kHz
60 Hz, 31.46 kHz
60 Hz, 15.734 kHz
60 Hz, 31.46 kHz
Euro36
A2024
320×200 - 1280×400
1024×1024
73 Hz, 15.76 kHz
15 Hz, 15.72 kHz
Multiscan
Euro72
Super72
640×480 - 640×960
640×400 - 640×800
400×300 - 800×600
60 Hz, 31.44 kHz
70 Hz, 31.43 kHz
72 Hz, 24.62 kHz
Low resolution screen modes offer up to 32 colours from a palette of 4096, 64 in EHB mode or 4096 in HAM mode. High resolution screen modes offer 16 colours from 4096, super-high resolution and productivity modes offer 4 colours from a palette of 64. Other screen modes require a Zorro graphics card.
The display enhancer doubles the scan rate of or deinterlaces the 15 kHz video modes allowing the use of VGA style monitors. 31 kHz modes can be generated also by Fat Agnus itself but they use up more DMA bandwidth and cannot be deinterlaced by Amber. The display enhancer can be disabled with a toggle switch and can be fined tuned with a trimpot on the back panel of the A3000T.
4 channel stereo 8 bit audio output with frequencies up to 28 kHz when using screen modes with 15 kHz, or up to 56 kHz when using screen modes with higher horizontal frequency. 16 bit audio requires a Zorro sound card.
All A3000Ts shipped with Kickstart 2.04 ROM which can be replaced with a 3.1 one. The ROM timing circuit provides four different speed settings for output enable (90-210 ns) and access timing (160-280 ns).
Early A3000T/030 models shipped with DMAC 01 or 02, Ramsey 04 and Fat Buster 07. The A3000T/040 utilized the DMAC 04 and Ramsey 07 in order to support the A3640. Upgrading to Super Buster 11 enables Zorro III DMA which is required by some expansion cards, for example the A4091.
Expansion slots
1× processor card slot
5× Zorro III slots
1× video slot
4× inactive ISA slots
The Zorro, ISA and video slots are all placed on the motherboard. All the ISA and video slots are in line with a Zorro III slot.
The video slot is similar to the A2000's but has a slightly different bracket.
The four ISA slots have their power and ground pins activated only. In order to access the slots by the A3000T a BridgeBoard has to be installed. With an installed BridgeBoard three ISA AT compatible cards can be used in the remaining slots. Inactive slots can be used for non intelligent cards like TBCs or fan cards.
The A3000T has the same 200 pin processor card slot as the one later utilized in the A4000. Processor cards designed for the A4000 can be used almost without restrictions.
The A3000T has a vast array of upgrade options, including processor cards, SCSI controllers, retargetable graphics cards, video digitizers, ethernet cards and many other types of expansion.
Drive bays
3× 3.5" front bays
1× 5.25" horizontal front bay
2× 5.25" vertical front bays
2× 5.25" rear bays
One of the 3.5" front bays is occupied with an A3010 880 kB or an A3015 1.76 MB floppy disk drive.
The A3000T shipped with a SCSI hard disk drive installed into one of the rear bays.
Interfaces
1× serial DB25 male, RS232
1× parallel DB25 female, Centronics
1× video DB23 male, analog RGB
1× VGA DB15 male, analog RGB
2× mouse/game DB9 male
2× stereo audio RCA jack
1× keyboard 5 pin DIN
1× external floppy DB23 female
1× internal floppy 34 pin header
1× external SCSI DB25
1× internal SCSI 50 pin header
The built in SCSI host adapter - based around the Western Digital 33C93 SCSI controller - supports up to seven devices connected simultaneously. The controller's configuration is stored in a NVRAM powered by the same battery which the clock is.
The floppy drive controller supports up to four devices - two attached to the internal floppy header and two connected to the external floppy port. Both double and high density disk drives are supported.
Motherboard revisions
rev 2 - A3500

prototype board
four Kickstart ROM sockets

rev 6.1 - A3000T ()

production board
two Kickstart ROM sockets
Other components
power supply:
280 W power output
monitor power connector
6× standard 4 pin power connectors
2× mini 4 pin floppy drive power connectors
battery backed up clock
0.25 W internal speaker